What!? Cigarettes! No, no, no, these are books, shrunken, unabridged editions in a paper cigarette box that's easy to carry around and much better for your health. (This is another crazy good small gift or stocking stuffer alert.) Available individually or in a set of 6 (see below).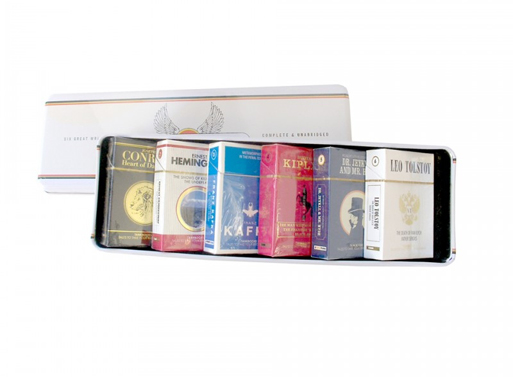 Tin of Cig Packs, $88.00
Update: looks to be sold out at shop.tenover6, but you can purchase directly from Tank Booksfor around £8.81 each.
Titles include:
Joseph Conrad: Heart of Darkenss
Ernest Hemingway: The Snows of Kilimanjaro & The Undefeated
Franz Kafka: Metamorphosis & In The Penal Colony
Rudyard Kipling:The Man Who Would Be King, The Phantom 'Rickshaw & Black Jack
Robert Louis Stevenson: Dr. Jekyll and Mr. Hyde
Leo Tolstoy: The Death Of Ivan Lynch & Father Sergius